Hi Sebastian,
I've been experimenting with sorting targets by transit time, and am a bit confused by the sort order …
If you select this icon …


the first target at the top of the list transits at SUNRISE.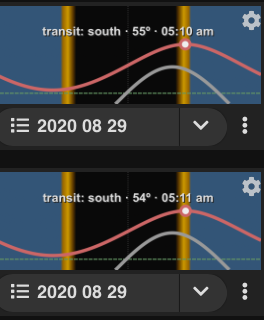 As you go down the list, transits occur progressively later until you reach just BEFORE midday - which takes you to the RIGHT-hand side of the transit chart - then the next target further down the list is shown as transiting just AFTER midday - which suddenly takes you to the LEFT-hand side of the transit chart.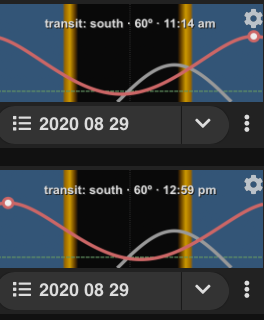 As you go further down, each transit occurs later and later, moving again from LEFT to RIGHT, until you reach just BEFORE sunrise again.
I think it would be much more intuitive if the first transit in the list occurs just AFTER midday, and the transits are shown in continuous order progressing linearly to just BEFORE the following midday.
That would prevent the transit time suddenly changing from just after midday to just before midday half-way through the list.
If you reverse the sort order, the opposite happens of course.
I was never certain what the sort-order icon meant - I think that it would be more intuitive if the icon changed the direction of the arrow, with an upward-pointing arrow denoting going forward in time, and a downward-pointing arrow going backwards. Or perhaps a clock-face with a curved arrow showing clockwise (forward) or anti-clockwise (back).
Best regards,
Gary